Printing Window Kraft paper food bag
SINCEYOUNG

CHINA

15 days

200000 pieces per day
Matte BOPP mold + kraft paper + food grade CPP (three-layer film).
Good sealing, high barrier, low oxygen permeability, high moisture and antifouling, high temperature and low temperature resistance, strong puncture and tear resistance, elegant appearance, noble and practical
T/TL/CpaypalWest Union
China supplier brown kraft paper bag with window,custom printing stand up paper bag,food packaging bag
Product Information
| | | |
| --- | --- | --- |
| 1 | Product name | Window Kraft paper food bag |
| 2 | Material | Kraft Paper |
| 3 | Size | any sizes, can be customized |
| 4 | Thickness | 60, 70gsm |
| 5 | Type | 4lb paper bag |
Size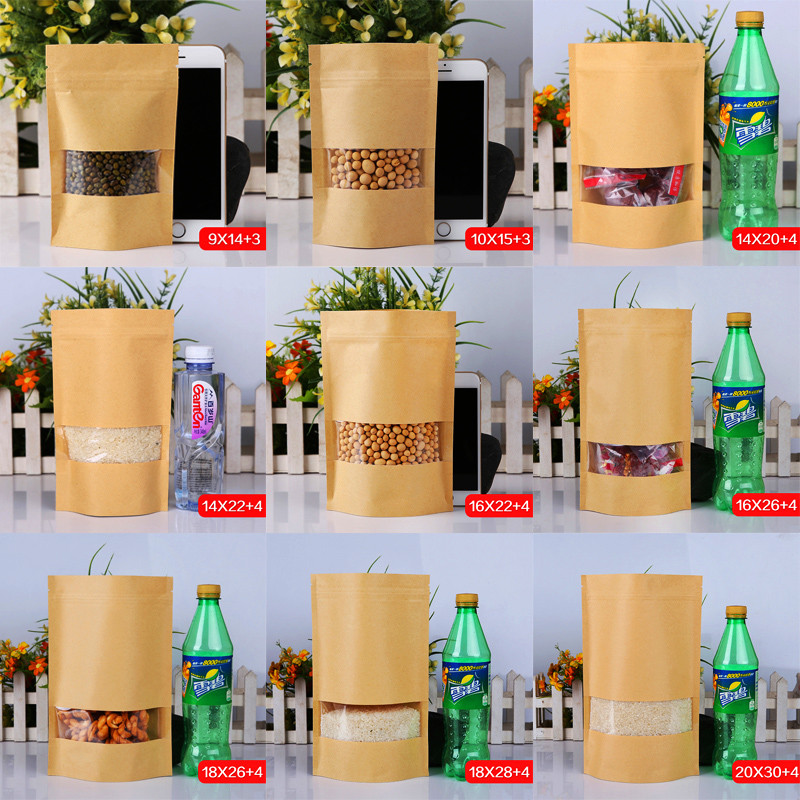 Window Kraft paper self-standing bag capacity table (parameters for reference only)
| Size(cm) | Thickness (double-sided) | Bottom radius | Actual size | Rice | Jujube |
| --- | --- | --- | --- | --- | --- |
| 9*14+3 | 28 silk | 3cm | 7*11 | 100g | 40g |
| 10*15+3 | 28 silk | 3cm | 8*12 | 250g | 100g |
| 12*20+4 | 28 silk | 4cm | 10*17 | 370g | 200g |
| 14*20+4 | 28 silk | 4cm | 12*17 | 500g | 230g |
| 14*22+4 | 28 silk | 4cm | 12*19 | 580g | 260g |
| 16*22+4 | 28 silk | 4cm | 14*19 | 800g | 300g |
| 16*26+4 | 28 silk | 4cm | 14*23 | 1kg | 400g |
| 18*26+4 | 28 silk | 4cm | 16*23 | 1.1kg | 450g |
| 18*30+5 | 28 silk | 5cm | 16*26 | 1.5kg | 650g |
| 20*30+5 | 28 silk | 5cm | 18*26 | 1.8kg | 800g |
| 22*31+5 | 28 silk | 5cm | 20*29 | 2kg | 900g |
| 23*35+5 | 32 silk | 5cm | 21*32 | 2.2kg | 1.2kg |
| Size(cm) | Pine nuts | Peanut | Tea | White sugar | Sunflower seeds | Wolfberry | chrysanthemum |
| --- | --- | --- | --- | --- | --- | --- | --- |
| 9*14+3 | 40g | 30g | 25g | 100g | 100g | 50g | 20g |
| 10*15+3 | 100g | 60g | 60g | 250g | 250g | 110g | 40g |
| 12*20+4 | 200g | 90g | 90g | 500g | 500g | 200g | 80g |
| 14*20+4 | 230g | 170g | 170g | 600g | 600g | 250g | 90g |
| 14*22+4 | 260g | 200g | 200g | 650g | 650g | 270g | 100g |
| 16*22+4 | 300g | 220g | 250g | 1kg | 1kg | 300g | 120g |
| 16*26+4 | 400g | 280g | 280g | 1.2kg | 1.2kg | 450g | 150g |
| 18*26+4 | 450g | 380g | 355g | 1.6kg | 1.6kg | 565g | 200g |
| 18*30+5 | 650g | 475g | 490g | 1.7kg | 1.7kg | 740g | 275g |
| 20*30+5 | 800g | 550g | 550g | 2kg | 2kg | 800g | 300g |
| 22*31+5 | 900g | 580g | 580g | 2.1kg | 2.1kg | 900g | 350g |
| 23*35+5 | 1.2kg | 680g | 680g | 2.4kg | 2.4kg | 1kg | 410g |
| Size(cm) | Squid silk | Candy | Almonds | Beef jerky | Lychee dried | Dried fruit | Coffee beans |
| --- | --- | --- | --- | --- | --- | --- | --- |
| 9*14+3 | 20g | 50g | 50g | 35g | 30g | 50g | 50g |
| 10*15+3 | 40g | 80g | 70g | 50g | 60g | 60g | 70g |
| 12*20+4 | 80g | 170g | 120g | 90g | 100g | 100g | 150g |
| 14*20+4 | 100g | 200g | 150g | 100g | 130g | 130g | 180g |
| 14*22+4 | 120g | 230g | 200g | 120g | 150g | 150g | 200g |
| 16*22+4 | 150g | 250g | 250g | 170g | 180g | 180g | 220g |
| 16*26+4 | 200g | 380g | 300g | 250g | 250g | 250g | 250g |
| 18*26+4 | 250g | 530g | 400g | 325g | 355g | 355g | 275g |
| 18*30+5 | 400g | 740g | 500g | 490g | 530g | 530g | 350g |
| 20*30+5 | 500g | 800g | 600g | 580g | 600g | 600g | 400g |
| 22*31+5 | 600g | 890g | 650g | 620g | 65g | 650g | 500g |
| 23*35+5 | 720g | 1kg | 720g | 730g | 710g | 710g | 800g |
| Size(cm) | raisin | walnut | powder | Preserved meat | Square sugar |
| --- | --- | --- | --- | --- | --- |
| 9*14+3 | 70g | 8g | 50g | 50g | 80g |
| 10*15+3 | 80g | 18g | 100g | 70g | 140g |
| 12*20+4 | 150g | 45g | 180g | 90g | 280g |
| 14*20+4 | 170g | 100g | 220g | 120g | 320g |
| 14*22+4 | 190g | 200g | 300g | 140g | 350g |
| 16*22+4 | 210g | 250g | 400g | 160g | 400g |
| 16*26+4 | 230g | 400g | 480g | 180g | 500g |
| 18*26+4 | 240g | 440g | 500g | 215g | 525g |
| 18*30+5 | 275g | 500g | 610g | 275g | 575g |
| 20*30+5 | 300g | 520g | 700g | 300g | 610g |
| 22*31+5 | 500g | 600g | 880g | 500g | 755g |
| 23*35+5 | 600g | 700g | 1.1kg | 600g | 810g |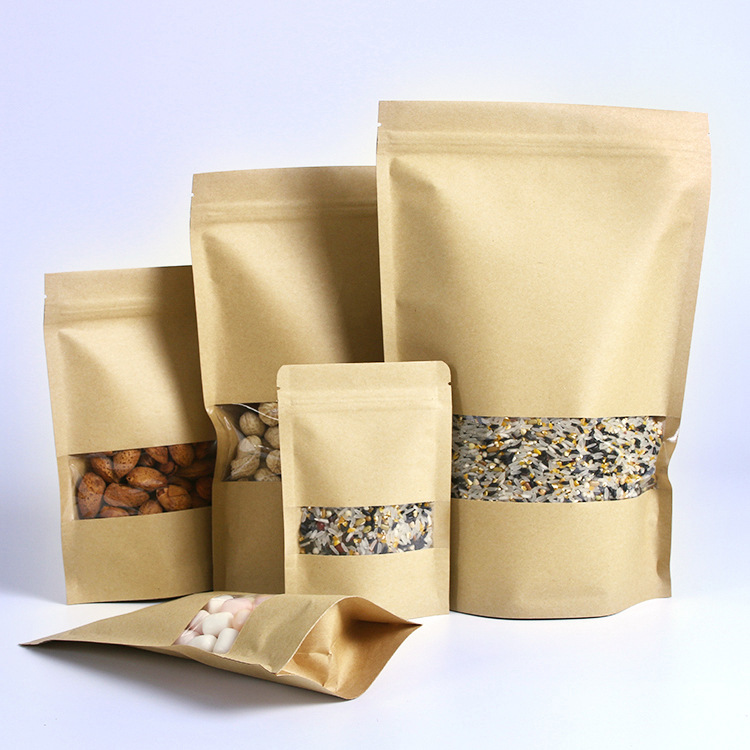 Paper bag material
White cardboard: White cardboard is firm and thick, with high stiffness, bursting and smoothness. The paper surface is flat. The commonly used thickness is 210-300 grams of white cardboard, and the most used is 230 white cards. The paper bag printed with white cardboard has a full color and a very good texture. It is your first choice.
White kraft paper: white kraft paper has high bursting resistance, good toughness, high strength, stable thickness and stable color. According to relevant national regulations, supermarkets restrict the use of plastic bags, and foreign countries, Europe and the United States and other countries advocate the trend of using environmentally friendly paper bags, and strictly control plastics. Pollution, plastic bags will be replaced by environmentally friendly paper bags, and the prospects for white kraft paper are promising. Made of 100% pure wood pulp, environmentally friendly, non-toxic, environmentally friendly and recyclable, white kraft paper has good toughness, and it is not widely used for making environmentally-friendly garment tote bags and high-end shopping bags. Commonly used white kraft paper with a thickness of 120g-200g, the paper has no brightness and gloss, white kraft paper is not suitable for printing ink too much content.
Kraft paper: also known as natural kraft paper. It has high tensile strength, high toughness, usually brownish yellow, high tear strength, cracking and high dynamic strength. It is widely used in shopping bags, envelopes, etc. Commonly used thicknesses range from 120 grams to 300 grams of natural kraft paper. Kraft paper is generally suitable for printing monochrome or two-color and uncomplicated manuscripts. Compared to white cardboard and white paper carton coated paper, yellow kraft paper has the lowest price.
Surface Effect Options
Gold Hot Stamping

Silver Hot Stamping

Glossy Lamination

Matt Lamination

Deboss/Emboss

UV Coating
FAQ
Q: How to make the order?
1. Inquiry: Pls give us the below details: Material, Size/Thickness, Printing designs, Qty, etc.
2. Quotation: We will give the price within one day.
3. Sample: We can design your logo for free.After all details confirmed,the sample will be finished in 2 weeks when sample fee well received.
4. Make order: When sample approved, confirm PI to place the order. Make 30% deposit by T/T or Open L/C at sight after your received our PI.
5. Delivery: When production finished, we will inspect the bags before delivery, then arrange the shipment with our forwarder.
6. Balance payment: All copies of Shipping documents send to you for balance payment, After balance payment done, Original Shipping Documents send to your via express, Client received the goods upon the original shipping documents.
Q: What's the MOQ?
The order quantity of each type of product is different. please send us an inquiry in advance.
Q: What's your payment term?
1) T/T.
2) Paypal.
3) L/C.
4) West Union.
Q: Can we ask for custom made bags with private logo printed?
Yes, most of our products are custom made according to our clients' request.
Q:  How to get a sample bag from our company?
After our price offer confirmed, you can ask for a free sample bag purposed to quality valuation. If this sample bags needs to make the printing cylinder, then we will request you to pay the printing cost and mould cost, as usual, this charge will be USD50 in total, including the shipping cost.
If any questions, pls do not hesitate to contact us!
Kraft paper frosted window bag Ziplock bag, can be used for a variety of powder, coffee, dried fruit, tea, herbs, grains, etc.