What is a zipper PVC bag
Zipper PVC bag is made of PVC material plus a PVC zipper. It is usually made into a flat pocket. It is pressed with two chapters of transparent material. It can be screen printed on the outside. The data can be transparent, frosted and colored!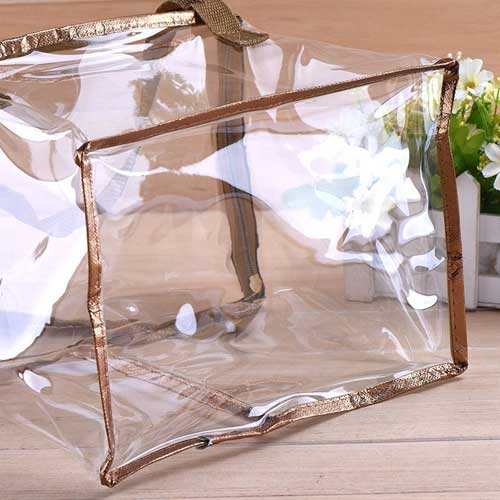 Manufacturing process of zipper PVC bag:
1. Set the pattern and make the zipper copper mold.
2, cut the material, calculate the size, cut the material into a zipper bag style, if you want to silk screen, then set the material, silk screen good position.
3, string zipper, the zipper bought back is a plus zipper head, where two layers are required, then stringed zipper head.
4, pressed into waste, this step is the need to press the zipper and PVC material into a plastic bag, this step needs to control the pressure of the voltage machine, as well as the spacing of the trimming, to do the zipper bag without burrs, smooth, Finishing!
In this way, the zipper bag can be made, the steps are very simple, but there are still many centralities in the consumption process that need to be noticed, and the demand is found in the consumption process.
The zipper PVC bag is also a kind of plastic bag, which has low toxicity and environmental protection materials and is processed by PVC film.
Zipper bags are generally divided into two types, flat pockets and flat pockets. Today, the main method of making flat pockets is introduced.
Zipper PVC bags should be prepared with copper mold, zipper, PVC film, and high frequency voltage zipper PVC bag:
First of all, the demand for cutting data, first cut the PVC film into pieces, the first silk printing is required, the silk screen printing needs to be aligned, or the voltage time stamping may tilt!
Then there is the demand voltage, the zipper is put on, the copper mold is turned, the mold is adjusted, the temperature is also appropriate, the voltage can be turned into waste, the manufacturing speed of the flat pocket is generally fast, and now there is an automatic high-frequency voltage machine, pressure The speed is faster.
When the zipper bag is in the process of pressing, pay attention to the width of the side pressure, and it cannot be pressed too deep, otherwise there will be burrs.
For more information about pvc bag, please pay attention to sinceyoung, if you have any comments on our information, welcome feedback